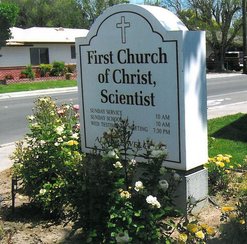 Yuba City First Church of Christ, Scientist – Spirituality, Christian Science Monitor, Christian Science Reading Room
Practical spirituality begins with understanding that aligning our lives with universal spiritual principles of God can bring peace, new ideas, and practical healing solutions to our lives, our environment and our world. We are dedicated to sharing these values.
Through a deeper understanding of God, the spiritual ideas presented in all our church activities are expected to bring healing. We offer a wide variety of services to the local Yuba-Sutter community that include: Church Services, Sunday School, Nursery, Testimonial Services, Christian Science Reading Room — Library and Bookstore and the Sentinel Radio Broadcast.
The Religious Tenets of Christian Science are as follows:
As adherents of Truth, we take the inspired word of the Bible as our sufficient guide to eternal life.
We acknowledge and adore one supreme and infinite God. We acknowledge His son, one Christ; the Holy Ghost or divine Comforter; and man in God's image and likeness.
We acknowledge God's forgiveness of sin in the destruction of sin and the spiritual understanding that casts out evil as unreal. But the belief in sin is punished so long as belief lasts.
We acknowledge Jesus' atonement as the evidence of divine, efficacious Love, unfolding man's unity with God through Christ Jesus the Way-shower; and we acknowledge that man is saved through Christ, through Truth, Life, and Love as demonstrated by the Galilean Prophet in healing the sick and overcoming sin and death.
We acknowledge that the crucifixion of Jesus and the resurrection served to uplift faith to understand eternal Life, even the allness of Soul, Spirit, and the nothingness of matter.
And we solemnly promise to watch, and pray for that Mind to be in us which was also in Christ Jesus; to do unto others as we would have them do unto us; and to be merciful, just, and pure.
— Science and Health with Key to the Scriptures 497:3-27 and The Manual of the Mother Church, pages 15-16, both by Mary Baker Eddy.
Join with us in our Christian worship every Sunday at 10:00-11:00 a.m. Sunday and Nursery schools are available at the same time. We also hold Wednesday evening testimony meetings at 7:30-8:30 p.m. At both of these services, the Bible and corresponding passages from Science and Health with Key to the Scriptures by Mary Baker Eddy are read. Hymns of joy and praise and The Lord's Prayer are part of our sanctified service where all are welcome!
We also offer an array of activities such as: Vacation Bible School usually held in July, Bible Study on the second Wednesday of each month, attendance at the Bible Seminar at Asilomar in Pacific Grove, California, local annual lectures, and community fairs.
Please come by and visit or call us today at (530) 763-4957 for more information on how to attend, join and find out more about our church.